RET's Stock FE
Details

Parent Category: Members
Last Updated on Thursday, 05 December 2013 10:32
Published on Saturday, 09 October 2010 04:53
Hits: 9407
The is Richard's main "club car", a low mileage (about 65,000) single-tone FE Special Sedan originally from Tasmania. It has been resprayed, but is otherwise original and unrestored. He is the third owner, and the car is now on NSW Historic Registration.
The car was built in early September 1956, so is a very early example of the "all new Holden", and features a number of items that differentiate it from '57 and '58 built FEs, such as
- no drip-rail in the engine bay
- skinny rear window trim
- body-coloured steering column
- minimal bracing and single skin dog-leg in the rear of the car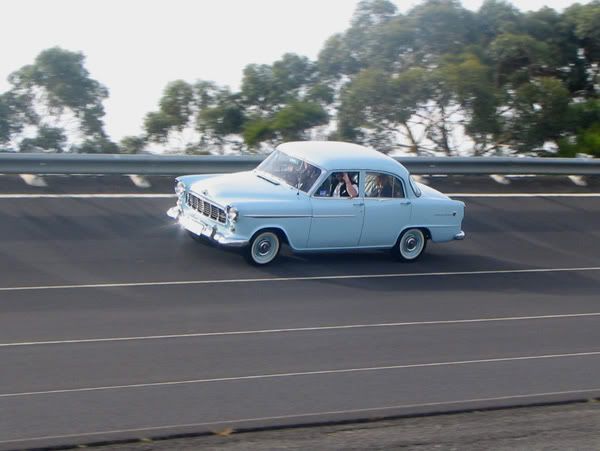 I'm amazed Alex was able to snap this photo, because as the driver it became apparent very quickly that the Ol' Girl was not interested in the top lane of the banked track at Lang Lang...
---
RET also has another FE, his daily driver for over 20 years. It runs a 186, trimatic auto and HR front and rear end. Richard is the Vice-President of the Club, and also the Webmaster for this site. Most days, the license plate is pronounced "Eff Ee Cool", but occasionally it's "Faecal" if she fails to proceed...